Collicutt Meeting Rooms
Winter registration is open. Click here to build your custom Activity Guide.
x
Our five rental rooms have Wi-Fi, are spacious, clean, and set-up to host your meeting, team wind-up, school party, birthday party, event or conference. We suggest you call ahead in plenty of time to reserve your rental because they book up fast. Room details are listed below.
The Prolific Group Board Room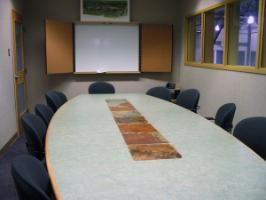 The board room is an adult only meeting space. Located on the second floor, it allows for a great above view of our field house and soccer pitch.
26.9 square metre (290 square feet) space
board room style table seats 12 people
projector and screen, white board
The Red Deer Bottling Meeting Room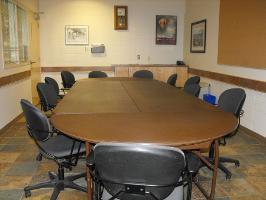 This meeting space (larger than our board room) is located on Main Street's east end.
27.6 square metre (297 square foot) space
board room style table seats 16 people
white wall and projector, white board
Servus Credit Union Multi Purpose Rooms (A, B & C)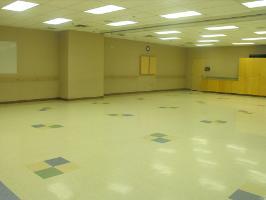 Room A & B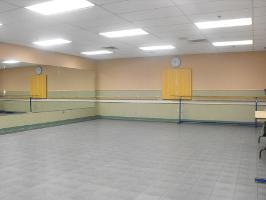 Room C
The three multi-purpose rooms on the second floor have elevator access. They can be set up separately or combine rooms. Ask about our TV/VCR/DVD equipment rental upgrade.
Room A
Room B
Room A & B Combined
Room C
Size
88.4 sq. m. (952 sq. ft.)
85.3 sq. m. (918 sq. ft.)
173.72 sq. m. (1870 sq. ft.)
82.1 sq. m. (884 sq. ft.)
Capacity
40 people
40 people
80 people
40 people
Ceiling
9' 10"
9' 10"
9' 10"
9' 10"
Room Features
capacity room divider separates rooms A & B
room divider separates rooms A & B
room divider opens to combine these rooms
mirrors
mirrors
mirrors
mirrors
counter top and cupboard space
counter top and cupboard space
counter top and cupboard space
Kitchenette
no
yes
yes
yes
Flooring
vinyl composite tiled floor
vinyl composite tiled floor
vinyl composite tiled floor
sport court floor
Audio/Visual
projector and screen
projector and screen
projector and screen
projector and screen
white board
white board
white board
white board
Book a Meeting Room Today
Email: FacilityBookings@reddeer.ca
Phone: 403-358-7522
Access and Fee Options