Labour
Red Deer Labour Force
Red Deer's economy is comprised of a combination of many industries that provide over 62,224 jobs.1 Red Deer has a very skilled and educated work force, with over 4,000 businesses providing employment in Red Deer.
Education
Red Deer has a young and educated population with an average age of 39.4. Over 52 per cent of the population indicates having attended training past high school such as post-secondary college certificates, diplomas or trades certifications.2
Red Deer Polytechnic is one reason for our highly skilled and educated workforce. RDP has over 80 program options, with 6,300 full and part-time students. The RDP is home to the Centre for Innovation in Manufacturing, which currently houses 4.2 million dollars in cutting edge, industry-leading, prototype and advanced manufacturing equipment. RDP also includes the Donald School of Business, and the Alternative Energy Lab. They work directly with local businesses to develop customized trade apprenticeships and training programs to keep up with the changing needs of industry.
The top three fields of study in Red Deer are Architecture/Engineering and related trades, Health and related fields, and Business, management.1
Occupations and Projected Job Growth
The largest occupations held by residents are Sales and services; Trades, transport and equipment operators and related; Business, finance and administration; Education, Law and social, Community and Government; and Management.2
The largest projected job growth (by occupation) between 2018-2023 are Registered nurses and registered psychiatric nurses (projected growth of 14 per cent); Nurse aides, orderlies and patient service associates (projected growth of 13 per cent); Food counter attendants, kitchen helpers and related support occupations (projected growth of 10 per cent); Managers in Agriculture (projected growth of 24 per cent); and Elementary school and kindergarten teachers (projected growth of 1 per cent).1
For additional resources and industry specific data, visit our Investment Opportunity Engine.
1Source: Regional Labour Force Profile for Central Alberta, March 2019
2Source: Statistics Canada 2021 Census data
Regional Labour Force
The Regional Labour Force Profile for Central Alberta March 2019 is the result of a municipal collaboration between The City of Red Deer, the Town of Blackfalds, Red Deer County, and the Town of Sylvan Lake. After examining labour community flows, it became evident that the available workforce in the four municipalities expands to the census division of Division No. 8.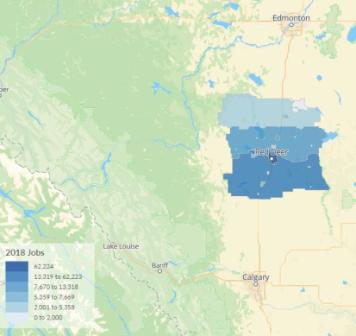 Key Findings3
The region accounts for 226,396 Albertans, of which 68 per cent are of working age (15-64).
Residents in this region have an average employment income slightly lower (4 per cent) than the provincial figure; however, more than half of the population between the ages of 25-64 has completed some form of post-secondary education.
The regional economy, which grew by 5 per cent between 2013 and 2018, sustains over 119,000 jobs. The region boasts a higher participation and employment rate compared to the rest of the province.
Key occupations in the labour shed (growing, emerging and concentrated) include: Accounting technicians and bookkeepers; Contractors and Supervisors in oil and gas drilling and services; Welders and related machine operators; Heavy equipment operators (except crane); and Contractors and Supervisors in heavy equipment operator crews, amongst others.
The region has a large surplus of workers in trades, transport and equipment operators, management, education, law, social and community and government services. Residents with these skills may work outside the region.
Conversely, the region has a gap of approximately 270 workers to support natural resources, agriculture, and related production occupations, most likely filled by workers coming in from outside of the region.
3Source: Regional Labour Force Profile for Central Alberta, March 2019
The Regional Labour Force Profile can be accessed here: Regional Labour Force Profile (pdf)