September 9, 2022 10:10 AM

(Red Deer, Alberta)

The City of Red Deer is pleased to announce Parks and Public Works Manager Greg Sikora as the 2022 recipient of the Bob Stollings Memorial Award.

The Bob Stollings Memorial Award is given out each year to a City employee who displays outstanding performance in alignment with The City's cornerstone values – respect, integrity, service and excellence. Nominations for the award are submitted by fellow coworkers detailing the employee's achievements professionally and interpersonally, along with letters of support. The award is considered a great honour among City staff.

Greg has worked for The City for 25 years. He has been instrumental in the development and implementation of a number of major projects and programs including the Integrated and Accessible Transportation policy, which saw a complete revamp of The City's snow and ice control standards to ensure community safety and accessibility throughout the winter.

As a leader in the organization, Sikora is known for his exceptional leadership, innovation, mentorship and guidance of his employees, as well as development of team cultures, even through challenges of the pandemic. He is a strong advocate for the health and safety of his staff and colleagues, with a focus on the needs and wellness of his team first and foremost.

"Excellence is the foundation of all that Greg does. He is committed to helping his team achieve shared goals and continues to build a unified team culture, even amongst all of the changes the last two years brought," said City Manager Tara Lodewyk. "He is a champion for the betterment of our great city. We are all so proud and excited for Greg to receive this award."

The Bob Stollings Memorial Award was first established in 1985 and is presented every year to honour Robert (Bob) E. Stollings, a loyal and dedicated City employee form 1960-1984.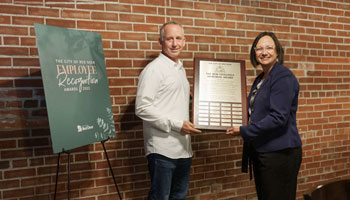 Greg Sikora accepting the Bob Stollings Award from City Manager, Tara Lodewyk
For more information, please contact:
Corporate Communications
The City of Red Deer
- end -