Pride
Pride, sometimes known as Gay Pride or LGBT Pride, is an annual celebration that typically involves a series of events hosted by the 2SLGBTQQIA+ (Two Spirit, lesbian, gay, bisexual, transgender, queer, questioning, intersex, asexual and allies) community. Events may include parades, picnics, parties, workshops, symposia, concerts, religious services, and memorials for those whose lives have been taken by hate crimes and HIV/AIDS.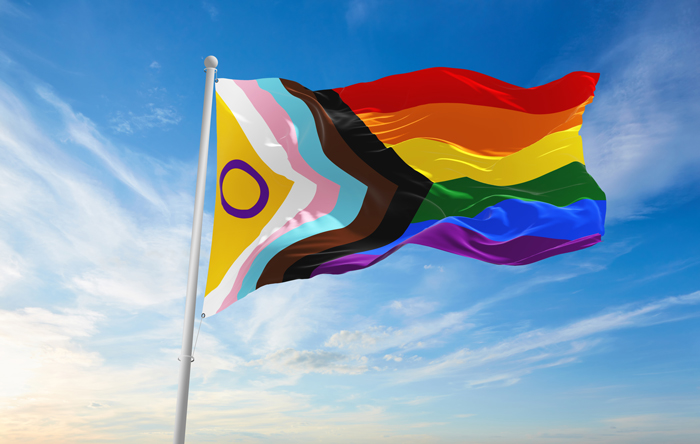 Pride recognizes the impact that Two Spirit, lesbian, gay, bisexual, transgender, queer, questioning, intersex and asexual individuals have had on history - locally, nationally, and internationally - and continues to serve as a protest for equality and basic civil rights for 2SLGBTQQIA+ persons around the world.
In Red Deer, most Pride events are held in August during Central Alberta Pride Week, hosted by Central Alberta Pride Society.
Pride In Recreation Facilities
City of Red Deer Recreation facilities, programs and services believe in 'recreation for all'. This means that regardless of race, religion, sexual orientation, gender expression or any other factor, you are welcome in our spaces.
As an outward expression of this philosophy, City recreation facilities will hang Pride Progress light pole banners for the month of June, Pride month.
What does the Pride Progress flag represent?
The original rainbow flag was introduced as a symbol of Gay Pride in San Francisco in 1978. The flag includes six colours that symbolize:
Red = life

Orange = healing

Yellow = sun

Green = nature

Blue = art

Violet = spirit
The Progress Pride Flag, based on the iconic rainbow flag, includes the addition of a five-colour chevron with black and brown representing Persons of Colour, along with pink, light blue and white representing the colours of the Transgender Pride flag and the circle representing people identifying as intersex. The Progress Pride Flag celebrates the diversity of the 2SLGBTQQIA+ community and calls for a more inclusive society.
Rainbow crosswalk
Red Deer's rainbow crosswalk is located on 50 Avenue ("Little Gaetz") at 50 (Ross) Street. Painted in 2020, the crosswalk is a permanent symbol of our community's commitment to diversity and inclusion, and a reminder to treat everyone with dignity, kindness, and respect. It is a simple gesture by The City of Red Deer to demonstrate recognition of the 2SLGBTQQIA+ community.
Rainbow benches at Ross Street Patio
Visit Ross Street Patio in the heart of downtown to find two rainbow pride benches installed by The City in 2021.
Resources: